Cindy Crawford's Mini-Me Daughter Steps Out with Big Bro Presley After Mom Jokes About Her Stealing Her 'Old Hair and Legs'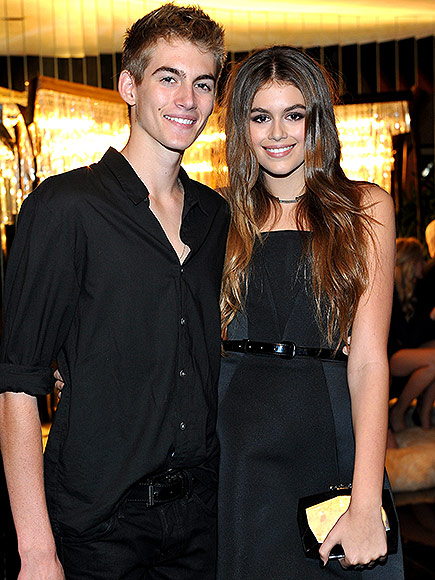 Presley and Kaia Gerber
Move over Reese Witherspoon and Ava Phillippe – Cindy Crawford and daughter Kaia Gerber might take the look-alike cake.
The supermodel's youngest child, 14-year-old Kaia, looked like the spitting image of her mother at Teen Vogue's Young Hollywood party in Los Angeles on Friday.
Accompanied by her older brother Presley Gerber, 16, the teen wore a sleeveless black structured dress with a matching belt, and sparkly heels. Kaia wore her hair in long brown waves – much like her mother's own famous locks.
Crawford and husband Rande Gerber were out of town in London for the launch of Gerber and George Clooney's tequila brand, Casamigos, in the U.K.
Kaia is already following in her mom's modeling footsteps – she landed a contract with IMG models earlier this year.
"I always tease my daughter – who everyone agrees, is a mini-me – and say 'You have my old hair – I want it back!' or, 'You have my old legs – I want them back,' " Crawford wrote in her memoir, Becoming. "She just giggles and says 'It's my turn now.' "
Despite Crawford being reluctant for her daughter to have a full-time globetrotting fashion career just yet, Kaia is happy to have mom's expertise to look to.
"It's good to have someone like you who can guide me along the way. I should be a teenager while I'm a teenager," Kaia told Crawford during an interview with The Thick. "You didn't start modeling till 16, and only really got into it at 18, and look at how successful your career has been. That said, I want to pursue it, so when opportunities present themselves … I'm more than happy to take them on because it's what I love."